August 19, 2022
Posted by:

niitfwp

Category:

NIITF News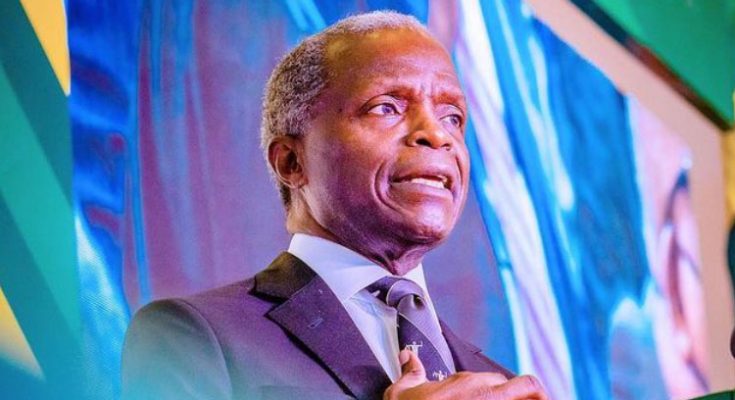 'Trade between both our countries(Nigeria and Indonesia) is relatively diversified and is estimated to have reached a volume of $2.1 billion in 2021. This is hardly enough given that the combined GDP of both our countries is $1,7 trillion, which means that the value of trade between us is less than 0.1% of our combined national incomes.'
PROF YEMI OSINBAJO
I am pleased to be able to join you for this auspicious event, the Nigeria-Indonesia Trade and Investment Forum. It is a very appropriate event given the close ties between both countries which share a number of similarities and can learn from each other. It is also a very good opportunity to highlight the potential for increased trade and investment ties between Nigeria and Indonesia.
In addition to being large democracies with diverse peoples, both countries are major oil and gas producers and members of the Organisation of Petroleum Exporting Countries as well as leading global producers of agricultural commodities like palm oil and cocoa. We also face similar challenges in providing much-needed social services to our large populations and in building modern infrastructure to underpin economic growth.
It is a matter of great pleasure for us in Nigeria that Indonesia is doing well on several fronts despite difficult global conditions. The high growth rate of this country at 5.4%, low inflation, political stability and huge infrastructural investments show us that our priorities in Nigeria are not misplaced or impossible to achieve. It also underscores the scope for mutually beneficial cooperation between our two countries.
Nigeria is also doing well on several fronts with GDP growth rising steadily after the COVID-19-induced recession of 2020. GDP growth in the 2nd Quarter of 2022 was 3.54%. We have also implemented huge infrastructural projects in power, roads and railways as well as an innovative and pathbreaking social investment programme which is helping to increase opportunity and reduce poverty.
Just as Indonesia moved up 47 places in the World Bank Ease of Doing Business rankings between 2014 and 2020, Nigeria also moved up 39 places in a similar period. Indeed, we were twice rated as one of the top ten performers in this regard globally.
This background of similarity and shared interests persuades me that the theme chosen for this forum is very appropriate. After a period in which global trade and investment was disrupted by COVID-19 and associated lockdowns and supply chain disruptions, the situation is now being further complicated and compounded by increased geo-political tensions that are further straining global economic ties. It is therefore imperative that our two countries which play important roles in our respective regions and indeed the world are deliberating on 'Reawakening Global Commerce.'
A good starting point for reawakening global commerce is to re-vitalise our bilateral trade and investment ties given that Indonesia is an important member of the G20 and Nigeria is Africa's largest economy. Trade between both our countries is relatively diversified and is estimated to have reached a volume of $2.1 billion in 2021. This is hardly enough given that the combined GDP of both our countries is $1,7 trillion, which means that the value of trade between us is less than 0.1% of our combined national incomes.
There is certainly great scope for increased trade which fortunately cuts across agricultural commodities, mineral goods and manufactured products. We can surely scale up the volume of bilateral trade by improving transport links and facilitating trade which will be helped by the unrelenting efforts to improve our respective business environments.
Such improvements are also key to increasing investment and I strongly believe that this Forum will provide an additional opportunity to deepen investment ties between Nigeria and Indonesia which will in turn expand and deepen our economic collaboration.
On its part, the Federal Government of Nigeria has improved the national investment landscape through the up-grading of our incentive schemes which are now compiled in one document called the 'Compendium of Investment Incentives in Nigeria' produced by the Nigerian Investment Promotion Council and the Federal Inland Revenue Service. There are in addition other frameworks to support specific sectors and to promote public-private sector partnerships which I encourage our Indonesian partners to utilise.
As we reawaken commerce bilaterally, we should also do so at the regional and global levels. Indonesian businesses should see Nigeria as the natural gateway into the African Continental Free Trade Area (AfCFTA) which brings together 54 African countries with a population of 1.3 billion people and a market size of $3.4 trillion. In addition to our large internal market and improving business environment, we are well located in the Gulf of Guinea and nearly equidistant to all parts of the continent, especially in terms of land and air links.
Current global developments including geo-political dynamics and climate change have created challenges for developing countries and placed enormous responsibilities on countries like Nigeria and Indonesia. It is in this context that I must commend the exertions of President Joko Widodo regarding the conflict in Ukraine which intervention resulted in a mitigation of global food shortages. Nigeria on its part continues to call for a just transition towards net zero carbon emissions by enabling the use of natural gas to overcome energy poverty in Africa while reducing emissions from more polluting fossil fuels and saving forests from being cut down for use as firewood.
Let me at this stage thank the Government and people of Indonesia for hosting this Forum and for the decision to prioritise Nigeria as one of your investment destinations in Africa. I also salute my compatriots Ambassador Usman Ogah, Ambassador of Nigeria to Indonesia and Mr Ishmael Balogun, President of the Nigeria-Indonesia Chambers of Commerce and Industry for their role in organising this very important event.
I am confident that with the spirit shown by participants and working together, we will see a substantial improvement in the trade and investment ties between Nigeria and Indonesia.
Virtual address by His Excellency, Prof. Yemi Osinbajo, SAN, GCON, Vice-President of the Federal Republic of Nigeria at the Nigeria-Indonesia Investment and Trade Forum held in Jakarta on the 24th of October, 2022 https://youtu.be/0aoSY3jVsks